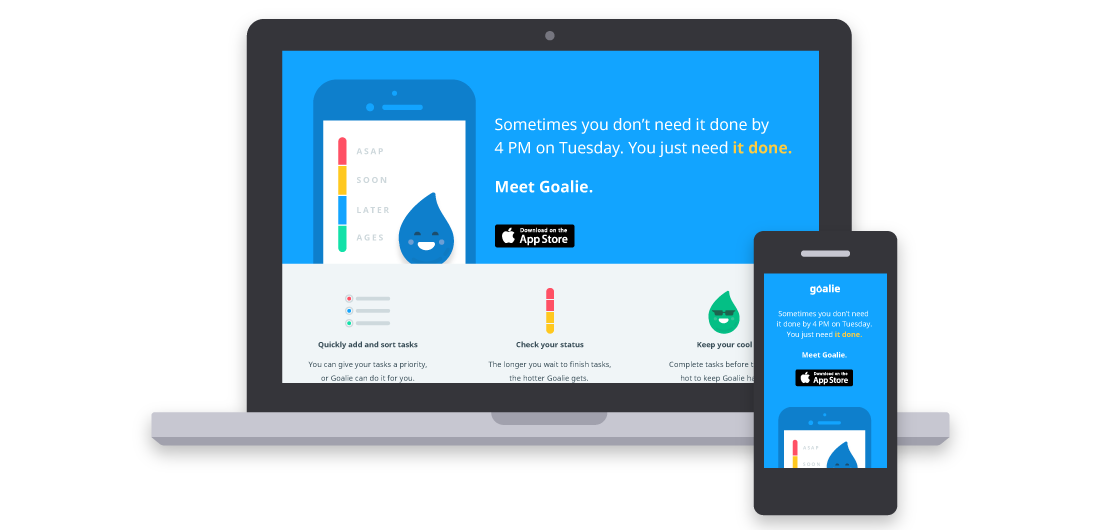 Goalie
Incipia came to me with the objective of developing a simple, goal based app. This was something I didn't feel had been fully solved, especially on mobile, despite the fact that plenty of options existed in the market. So many apps focus on deadlines, and date-driven tasks. While they afford a lot of power, they often come stocked with unnecessary complexities and can quickly convey an unnecessary sense of pressure. I wanted Goalie to be light and playful, but still give offer drive and a sense of accomplishment. So we designed Goalie.
The basic premise is that a user adds tasks, that by default begin their cycle in the least pressing category.The longer you take to complete a task, the hotter the task becomes, and the hotter Goalie becomes. The list mimics a thermometer, as color helps to provide a simplistic sense of time. So whether glancing at your phone or your watch, you get a general sense of how you're doing at any given moment based on Goalie's physical state. His appearance, along with playful phrases, help to keep users entertained and excited. In later releases, we added new characters as well as environments to add variety, personality, and a bit of added motivation. From the writing, to the landing page, to the UX, this app was a blast to work on. Read the full story here and check out Goalie in the App Store today!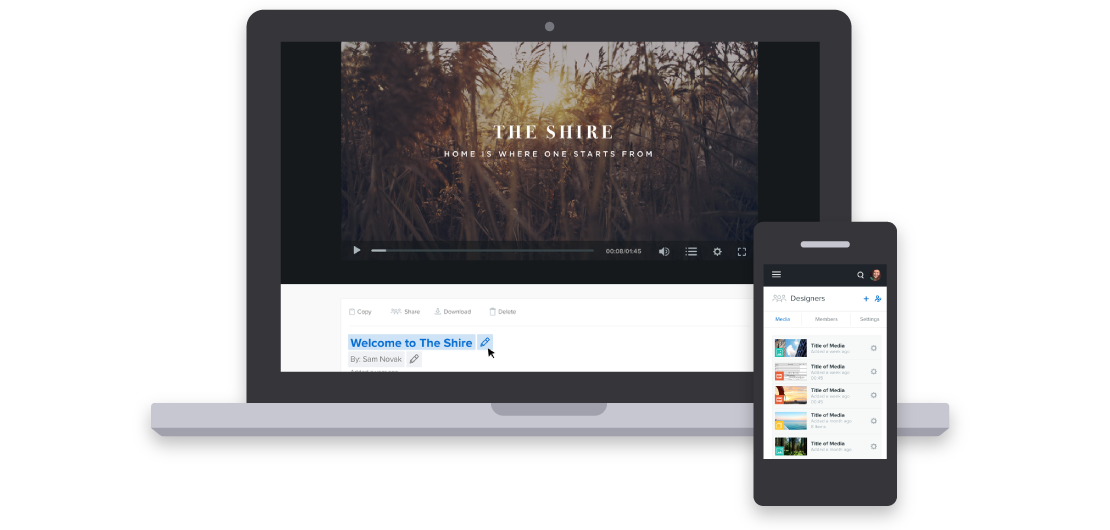 TechSmith Relay Redesign
TechSmith Relay is an organization-wide learning solution, that allows you to record and share videos and measure their effectiveness. I was tasked with redesigning the site. I also had the opportunity to come up with a comprehensive style guide that covered things like visual style, typography, voice and tone, and UI components. This redesign largely involved improving the navigation, and setting a clear style throughout the experience.
Considering that Relay was integrating primarily with LMS systems that had their own activity feeds and streams, I wanted to design a layout that focused less on the activity and more on the viewing and file management structure. I did a lot of research to look into popular and understood file storage conventions, and set out to create a more usable site that really put the emphasis on the users' content.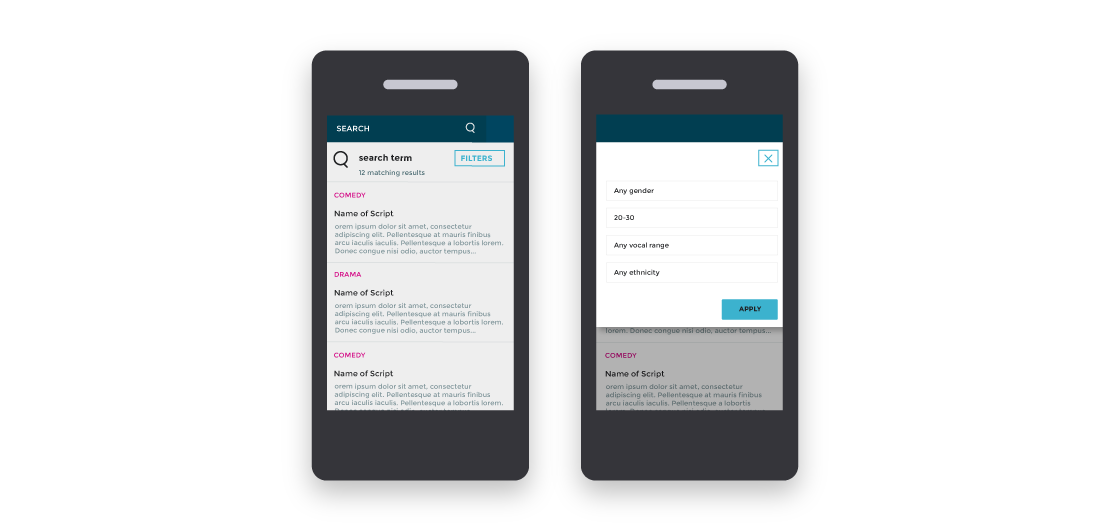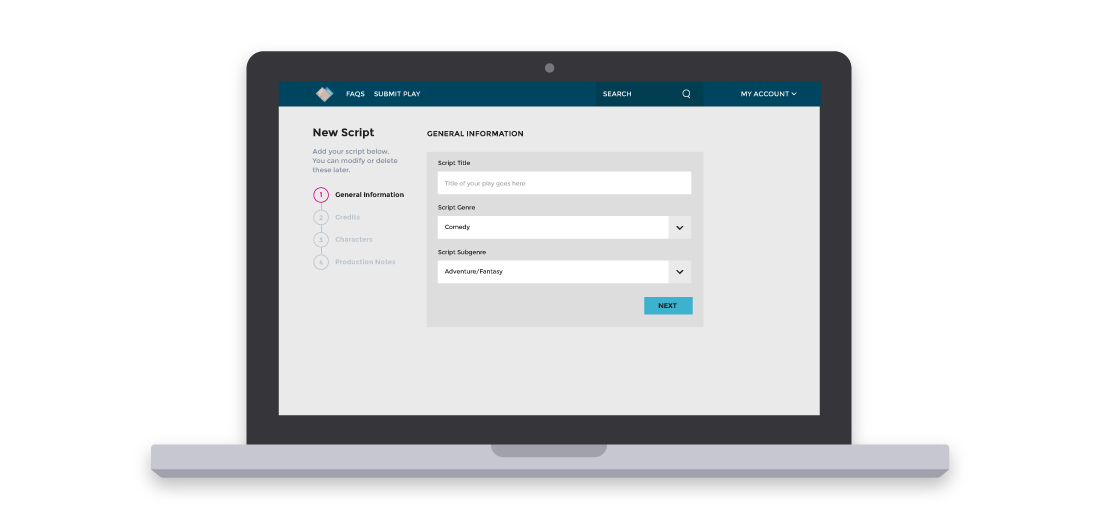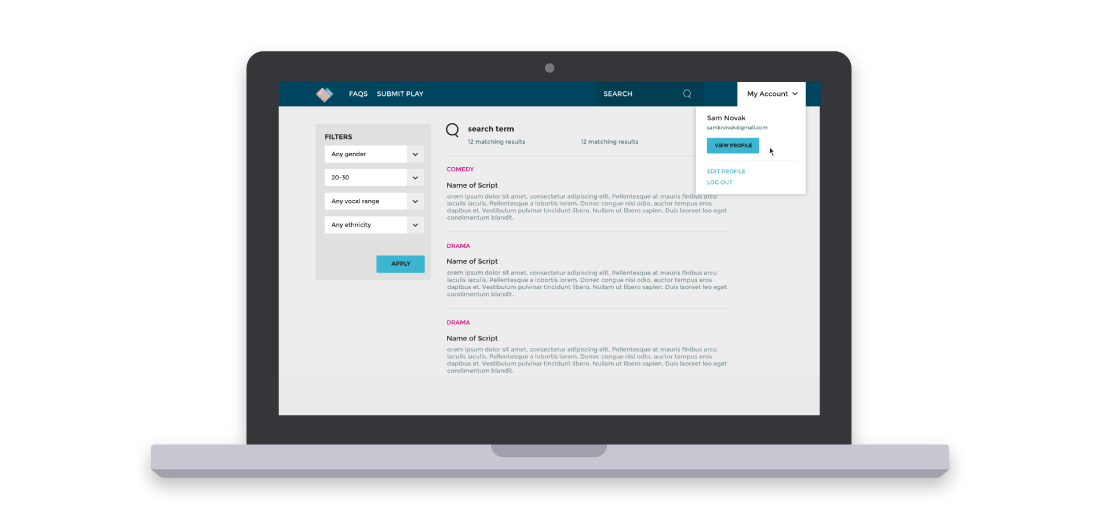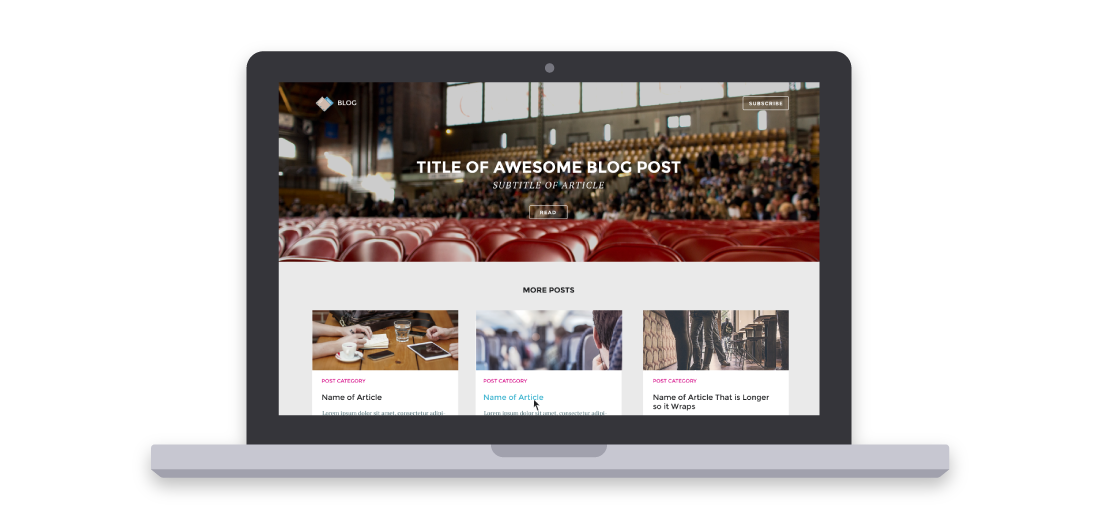 Script Match
I had the privilege of helping set the user experience and interface for this awesome start up. With a goal of making the process of finding plays and musicals quick and simple, I set out to create a vibrant design that would inspire young actors while exposing a clear and targeted script search engine.
Inklings
Inklings was a thrilling TechSmith experiment to try and explore creating and chunking content in an education space. We visited a number of schools and spent months trying to better understand how to make creating video easier for both teachers and students, as well as look at how users could combine multiple types of media into one video project, and redo small sections to make editing not feel like a chore.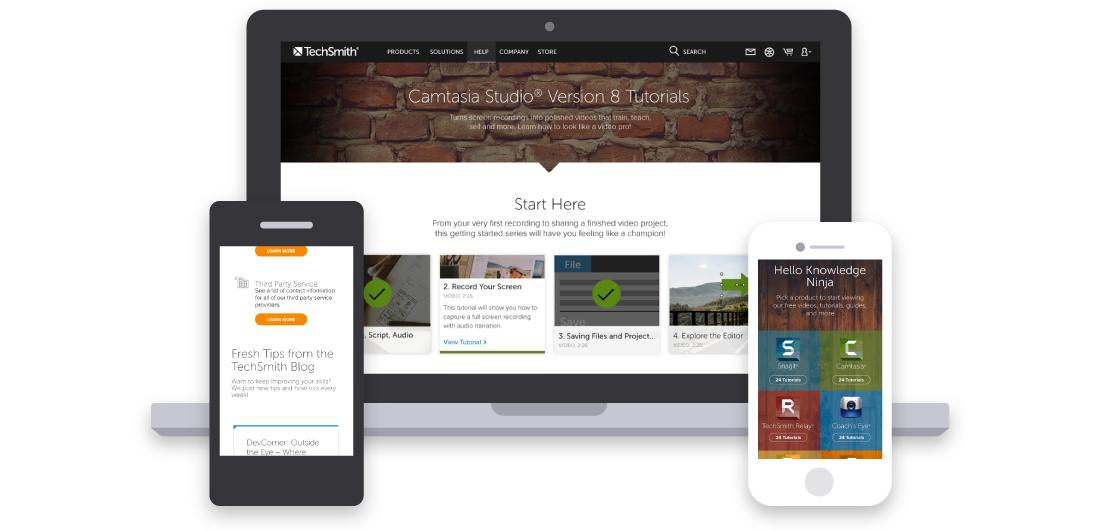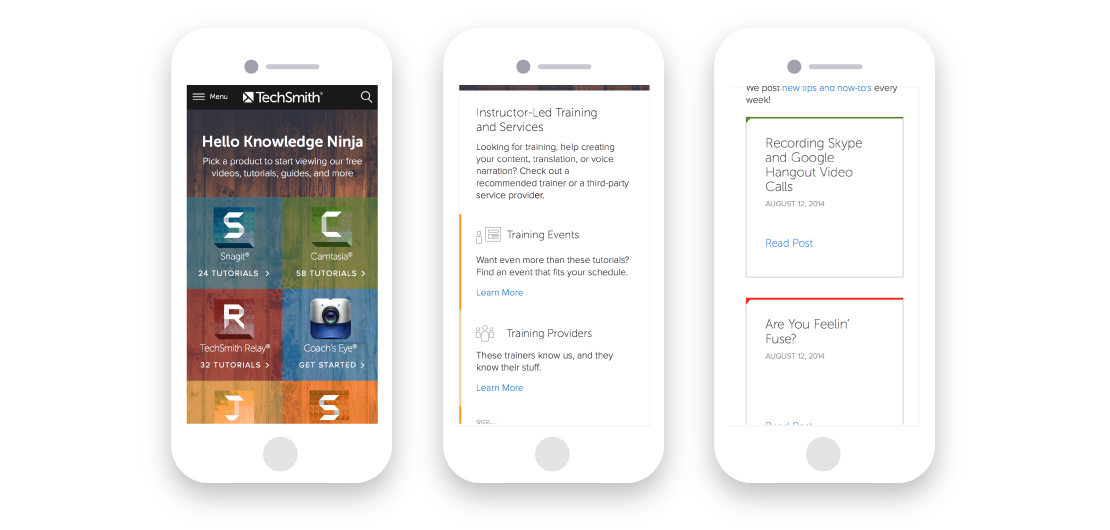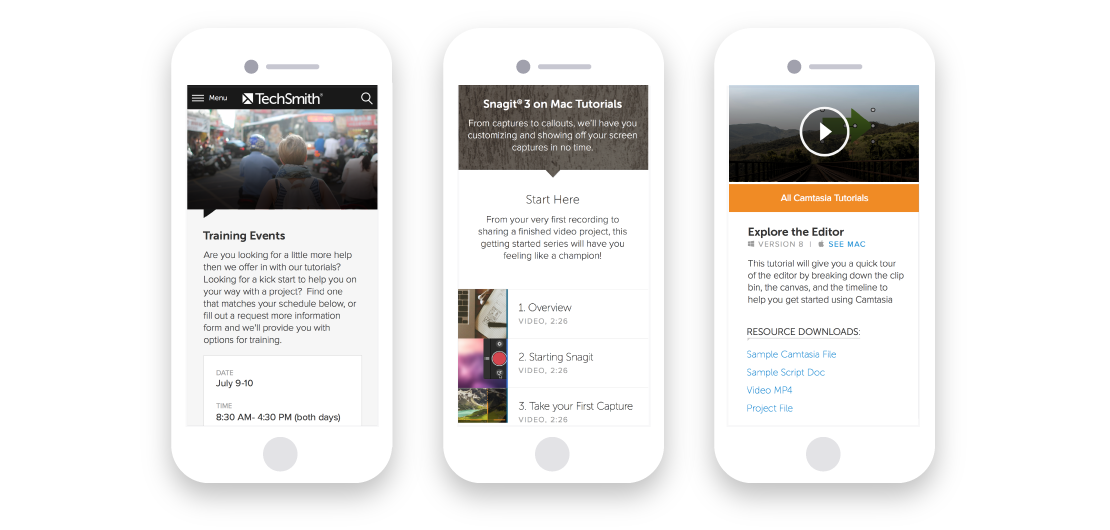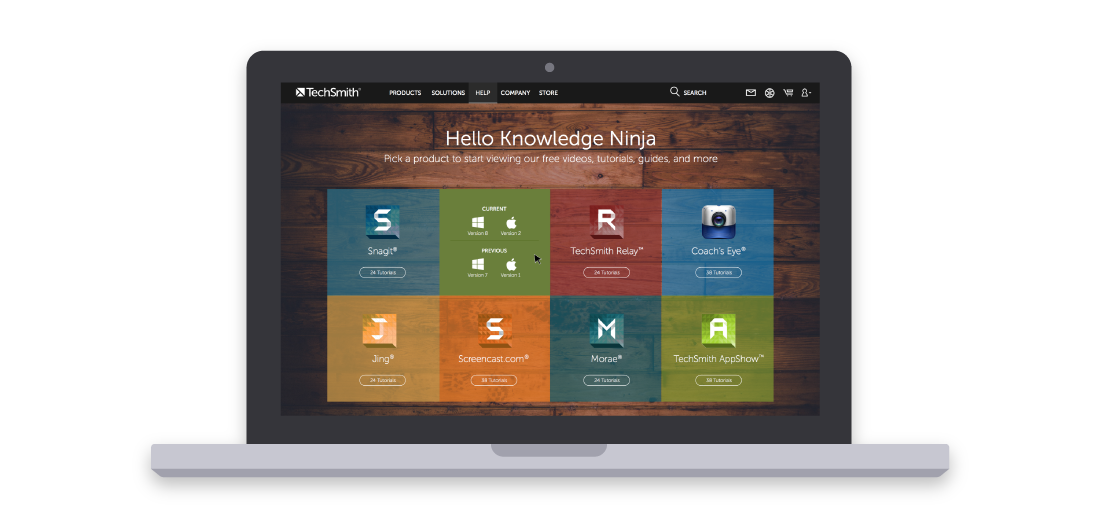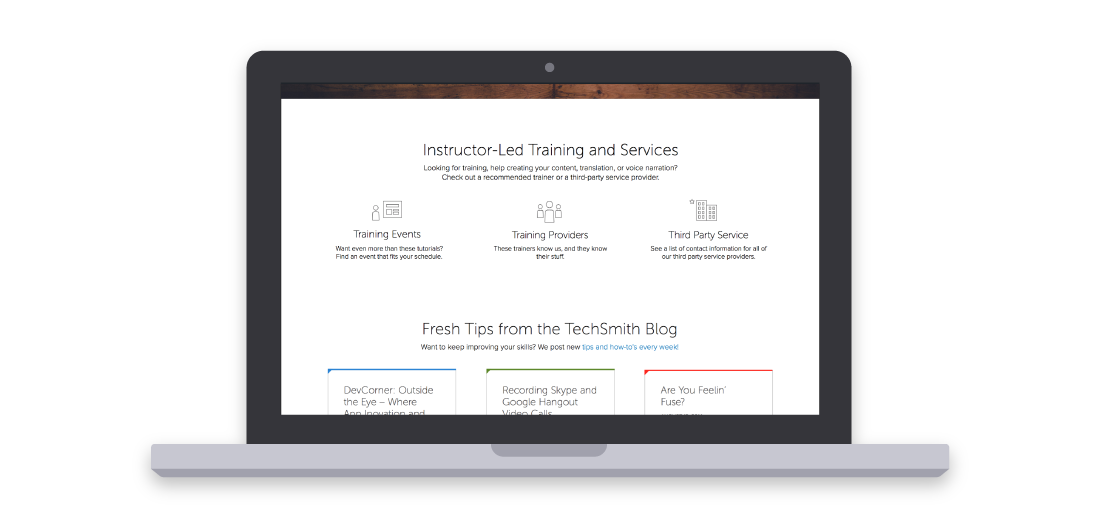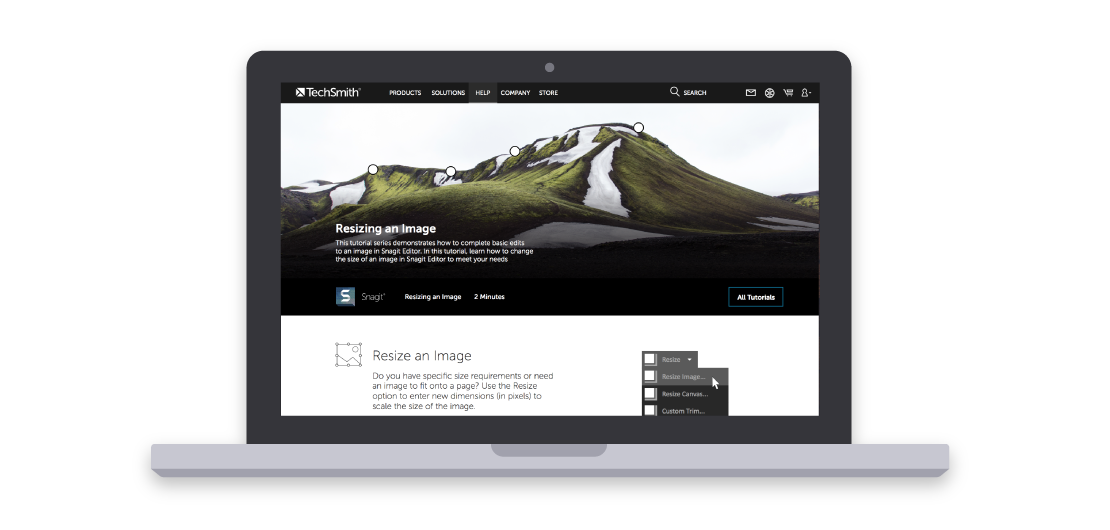 TechSmith Tutorials
Considering TechSmith's software helps people make inspiring and compelling tutorials every day, our own tutorials section of our website was in desperate need of some love. After countless wireframes and click through prototypes, meetings with User Assistance and Marketing, and a lot of testing, I developed a redesign plan. I wanted to encourage users without seeming patronizing, and excite them to try our new products without overwhelming them.
With tutorials, you're dealing with a lot of different users and use cases, from potential customers simply curious about purchasing to frustrated users trying to solve a problem. I wanted people to find the information they needed and feel a sense of success as quickly as possible.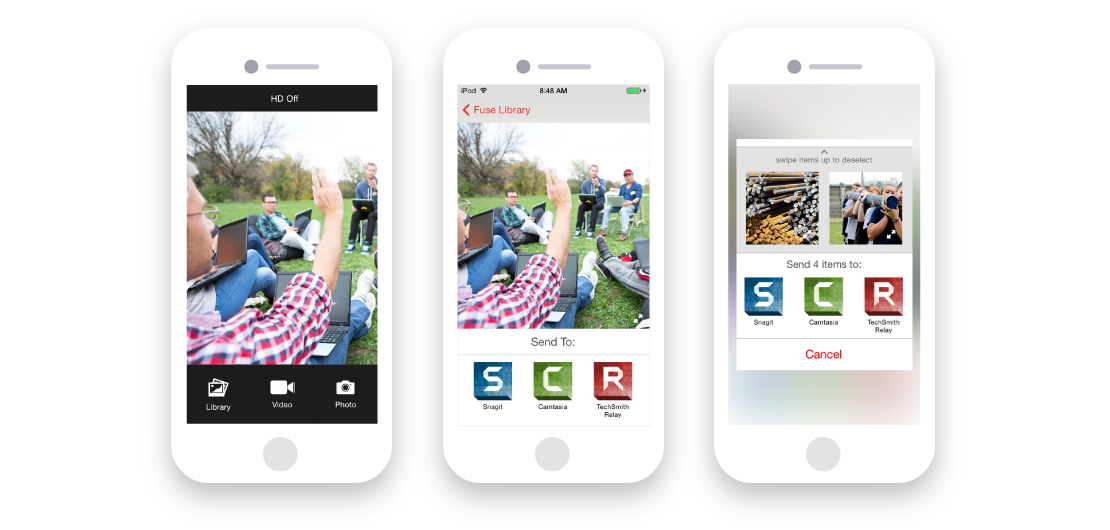 TechSmith Fuse
Fuse started as a simple companion app that allowed Snagit and Camtasia users to wirelessly send images and videos from their mobile devices straight into their desktop products. When we added TechSmith Relay users to the mix, we had to deal with an entirely different user base that had some additional needs. Fuse quickly grew into a powerful mobile companion app that worked across iOS devices, Android, and Windows Surface Tablets. It was an exciting challenge to carry the TechSmith brand and themes across the three unique platforms, and to have the opportunity to work on aspects of the app in addition to the user experience, whether that be marketing graphics for the app stores or writing error messaging.
We worked hard to improve the capture tools to allow users to gather better content on-the-go, and spent a ton of time iterating after meeting with teachers and students to make the app as easy to use as possible. To hear more about my adventures in user testing, check out my blog post on an eyeopening trip we took to a school in Grand Rapids.
As I neared the end of my work on Fuse, I played around with some wireframes and prototypes of how we could add simple annotation and trimming tools into the app. Feel free to play around with the prototype here.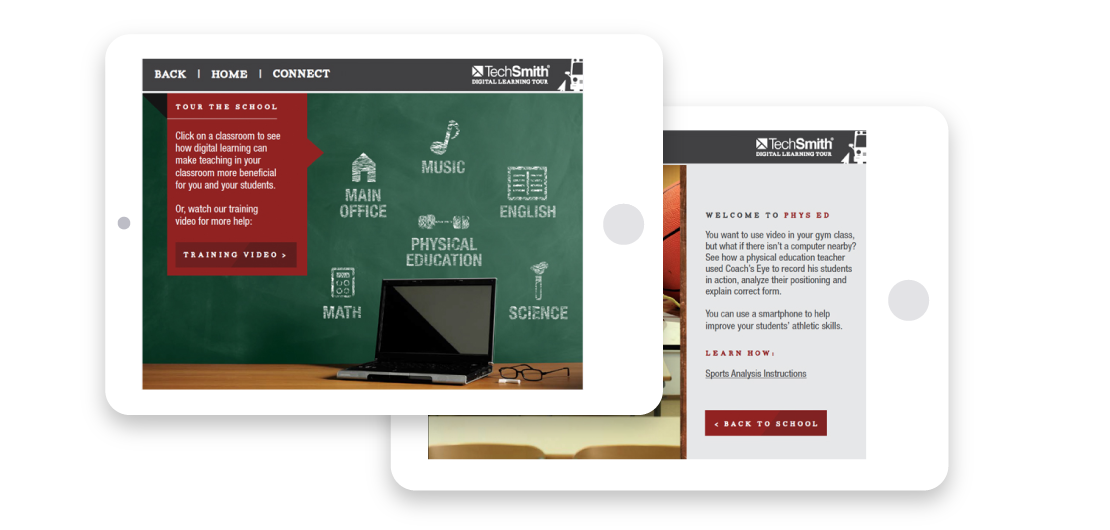 Digital Learning Tour
Education is one of the areas I've really gotten to submerge myself in while working at TechSmith. We strive to really understand the problems in the EDU space, and even have a number of staff who have spent many years in the teaching profession.
I wanted to make a training tool that would be accessible for any level of education professional that wanted to learn about TechSmith. The hope was that you could playfully peruse the app, and get ideas and inspiration from real life examples of what other teachers and schools had done using TechSmith products. Then, if you felt really motivated, we had instructions on how to do similar projects in your school.
Case and point, with the Digital Learning Tour, we tried not to get bogged down with product lists and features, but rather focus on showing off some kickass schools doing incredible things with digital learning. Powerful stuff.